IKEA Wants To Add CBD To Your Shopping Experience!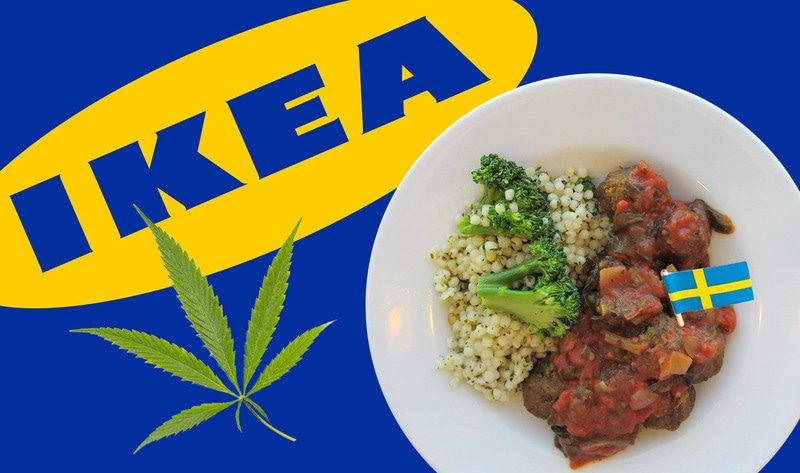 IKEA DEBUTS CBD-INFUSED VEGAN SWEDISH MEATBALLS 
The furniture giant aims to make navigating its stores a far more pleasurable, and tasty, experience. 
APRIL 1, 2019
---
International furniture company IKEA is introducing another vegan menu option to its in-store bistros. In line with current trends, IKEA has developed CBD-infused vegan Swedish meatballs which will debut at select stores beginning on April 20 of this year. The chickpea and vegetable-based balls are seared with a proprietary food-grade CBD oil then covered in CBD-infused vegan gravy. IKEA test kitchen recipe developers claim that consuming CBD with food allows the diner to slow down while eating and fully appreciate and savor each bite. Due to the relaxing and anxiety-reducing benefits of CBD, IKEA purports that these meatballs may also relieve some of the stress of furniture shopping and assembly. The company stresses that CBD does not contain marijuana (THC), and the meatballs do not contain any psychoactive ingredients. The CBD oil used is safe for all ages and legal in all 50 states.
For now, stores in Washington, Oregon, California, Nevada, Colorado, and Sweden will serve this new vegan item, though the company plans to add it to the menus of all cafés by the end of 2020. A serving of six meatballs with gravy will cost $4.20, or 38.98 krona in Sweden. Catering and take-home trays which feed a family of four will roll out one week after the initial launch. The IKEA kitchen is also working on a frozen product which will include the vegan meatballs, CBD-infused gravy, and a packet of CBD oil for sautéeing and drizzling.
HEALTHY HEMP OUTLET OFFERS REAL CBD OIL FROM INDUSTRIAL DERIVED HEMP.




OUR BEST SELLING CBD OIL IS TRU ORGANICS 900MG 




CLICK IMAGE ABOVE TO SHOP FOR 
THIS 900MG WITH FREE SHIPPING
This may be IKEA's first venture into CBD products, but pending its success, the company said it is looking to expand the line with other food products. IKEA representative Hinga Dinga Durgen told VegNews that a CBD lingonberry juice is near the end of its consumer testing stage, as well as a frozen take-home CBD lingonberry pie. Further down the line, the company is hoping to partner with a startup Lithuanian hand sanitizer brand, TidyWipe, and install complementary CBD hand wipe dispensers throughout every store. IKEA executives claim that this new CBD initiative will not only create an overall more enjoyable shopping experience, it will also benefit employees and the company's bottom line. Based on scientific trials, customers were far less likely to get lost in the store due to CBD's calming abilities. After ingesting 5 mg of CBD, customers reported feeling "more present" and being able to recall their steps to find their way out of the store unaided. During these trials, shoppers also purchased higher-dollar items and spent time eating and socializing in the café afterward, driving sales in both furniture and food departments. The only downside, according to researchers, was that several customers were inclined to take prolonged naps in the bedroom displays.
In addition to these new vegan Swedish meatballs, other plant-based options in IKEA cafés include vegan hot dogs, oat smoothies, and non-dairy soft-serve—the latter set to debut in the United States this summer.
For updates on soft-serve flavors, and other April Fools' news, keep an eye on VegNews Instagram Stories.