Bloomberg: Booming Demand for CBD...
Booming Demand for CBD Is Making Hemp the Cannabis Cash Crop
Pot's cousin won't get you high but is rich in highly sought-after cannabidiol.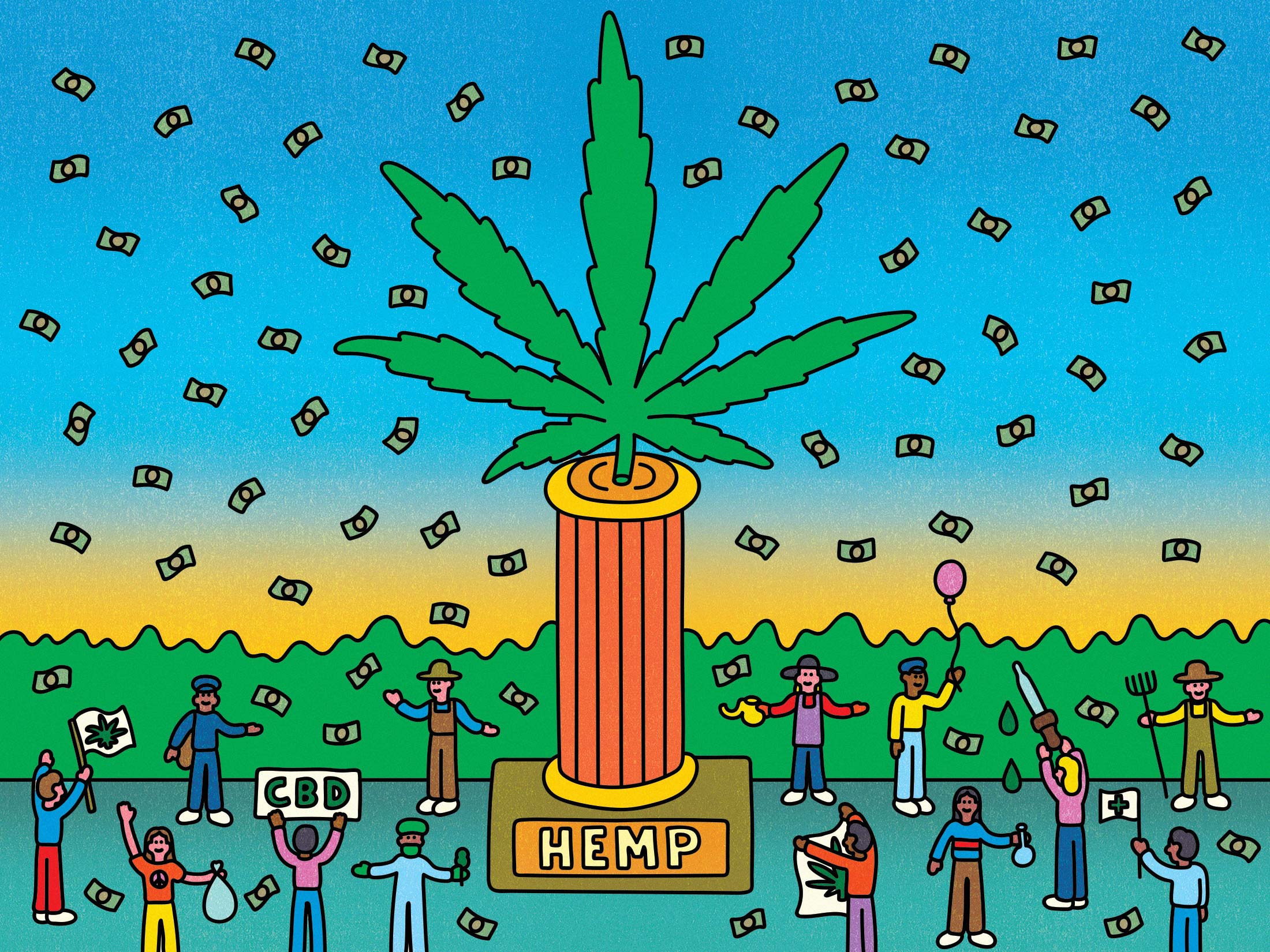 Mention legal cannabis, and many people think of the weed stores that have sprung up in Boston, Denver, Seattle, and other major U.S. cities. Inside, infused brownies and vape pens are sold next to branded joints and neatly packaged bags of marijuana presented in a way that wouldn't be out of place in any American mall. In Canada you can even order pot through the mail, and some of the world's alcohol giants have set up shop there to develop weed beer.
But the business of getting people high is only part of the cannabis craze. Marijuana is still banned for recreational use across much of the world, and even medical access, while expanding, is restricted in most countries. So players in the $340 billion global cannabis market are turning their attention to weed's less-regulated cousin, hemp.
Marijuana 101
• THC: Tetrahydrocannabinol is the chemical in marijuana that produces a high.
• CBD: Cannabidiol, a nonintoxicating compound, can be derived from hemp and marijuana.
• Cannabis: Hemp and marijuana are both types of cannabis. Hemp faces fewer restrictions because it's generally cultivated with lower levels of THC. 
Hemp is a strain of cannabis whose fibers have traditionally been used in textiles and rope, and farmers can grow it even in countries with strict drug laws because it has different properties from marijuana. Most important to law enforcement officials, it's low in THC, the compound that gets you stoned. But businesses are buzzed about its other defining characteristic: a higher concentration of cannibidiol, or CBD, a nonpsychoactive chemical at the center of a wellness trend sweeping the U.S. and expanding worldwide.
CBD is being pitched as an all-natural way to alleviate ailments including pain, inflammation, anxiety, and insomnia. Despite a paucity of science to back up such claims, CBD has become a coveted ingredient in a host of consumer products, from skin lotions to sparkling water to tinctures to dog biscuits. The surge in demand is fueling a global Green Rush, even in countries where a legal market for cannabis products was unthinkable just a few years ago. "We are getting phone calls from big pharma groups in Asia, all parts of the world: 'Can you get product? Can you supply to us?' " says Glenn Davies, chief executive officer of industrial hemp grower CannAcubed Pte. The Singapore-based startup planted its first commercial hemp crop in May in China's Yunnan province. "It's all about hemp."
One of the first plants ever domesticated, cannabis was used for thousands of years for fiber, food, and medicine. Yet for the better part of the last century it's largely been traded on the black market, banned in many countries alongside cocaine, heroin, and other controlled substances. Much of that bad-boy reputation faded last year when Congress legalized CBD in the U.S.
Researchers estimate the market for CBD in the U.S. alone could be worth almost $24 billion by 2023. In Canada sales of legal cannabis may reach $4.7 billion by that time, up from about $570 million last year, according to BDS Analytics. Annual sales of CBD could potentially be larger than those of marijuana, analysts say, because of the large number of products in which it can be used.
Investors are pouring money into massive CBD extraction facilities and processing plants in the U.S., hoping to be ready when Coca-Cola Co., Procter & Gamble Co., and other consumer giants finally embrace cannabis. Colorado CBD company Mile High Labs has developed technology to remove unrefined hemp extract from the plant, and it recently paid $18.8 million for a 400,000-square-foot former Novartis factory where it will make products such as lotions and tinctures.
American farmers are plowing into the hemp industry in Colorado, Kentucky, Montana, Oregon, and other states. This year, more than 200,000 acres of hemp are licensed to be planted in the U.S., up from roughly 25,000 two years ago. Asia, which has a long history with natural medicines, is also seeing growing interest in cannabis. In 2017, China planted at least 113,000 acres of hemp, according to New Frontier, an industry researcher. Cultivation is also on the rise in Colombia, Greece, Jamaica, and even the southern African nation of Lesotho. "You get the domino effect: The farmer in Bulgaria looking across at peers in Greece and asking questions, putting pressure on the government to make similar steps," says Shane MacGuill, an analyst at Euromonitor International. "The more it happens, the more quickly we get the spread of cultivation."
Not everyone is so sanguine. Mark Mees, CEO of Setek Therapeutics in New Zealand, sees cannabis becoming another agricultural commodity, with prices racing downward. And Mees, whose company has a license to grow medical marijuana in the country, says the CBD business has been overhyped. "You get a few hippies and that's great. One thing that's missing is old-fashioned business sense," he says. "We will see a train wreck of small companies that completely underestimated the costs and the complexity of what they're trying to do."
Restrictions on medical pot are loosening globally. More than 50 countries, including Australia, Brazil, and Germany, have legalized access to medicinal cannabis, according to Bloomberg Intelligence, making it easier for farmers to plant hemp or marijuana. But dealing with pot can still be tricky. In New Zealand, companies can grow medical weed only for research, though the government is working on a commercialization plan. Cannasouth Ltd.has struggled as New Zealand's sole publicly traded cannabis company, with its shares falling 24% since its IPO on June 19.
As countries remove restrictions, cannabis prices could fall. That would hurt farmers, but potentially boost the profit margins of companies using cannabis as an ingredient. Worries about an industry bubble surfaced earlier this year in China after investors flocked to companies linked to cannabis. Regulators sought to rein in the enthusiasm, with the Shenzhen Stock Exchange telling companies to warn investors about uncertainties facing their industrial cannabis projects.
Canadian farmers have seen a hemp boom-and-bust cycle before. The crop was legalized for production in 1998, and farmers benefited when hemp seed took off as a health-food product. Business peaked in 2015 as South Korean demand drove the market. But China, becoming a cheaper supplier for Korean buyers, sucked profit away from Canada's hemp-seed farmers. Still, that hasn't deterred Canadians from trying to cash in on CBD. This year, hemp acreage in the country is expected to more than double, to about 82,000 acres.
In Asia, CannAcubed's Davies is also unfazed by the risks. "Everybody is trying to have the same outcome and objective: Get this industry moving," he says. —With Ashley Robinson