Read CBD Product Reviews on this item by clicking on the stars below
Buy DELTA 8 THC Online - Blue Dream Delta-8 .5 (510)
 UTOYA Delta 8 THC Hemp Cartridges / .5mL 
Our Delta 8 vape cartridge has an uplifting feel and is 3rd party tested, labeled with expiration date and blended with the CBD, CBN, CBC, all with the best of botanical terpenes. We find that our blends have more entourage effect then the competition as the proper amount of CBD and the right mix of terpenes has a profound effect on the performance of our cartridges.
Our delta 8 vape cartridge is derived from hemp and federally legal. It comes in a 510 compatible, glass C-CELL cartridge with a ceramic core and for the best possible performance and taste.
STRAIN INFO:
Blue Dream Infused Strain Profile takes the euphoria and creativity boosting properties of Blueberry indica and sativa Haze and complements the mood with sweet blueberry. Full Flavor. Full Effect. If you purchase 2 cartridges we'll ship 1 - Blue Dream, and 1 - Pineapple Express. 
Our 1/2 gram vape cartridge is one of the most potent and balanced Delta 8 cartridge available, Our high quality ceramic coil cartridges are far superior to traditional cartridges. Providing even burns and more reliable performance with no intrusion of metals. Delta 8 THC is Federally Legal and is also legal in most states.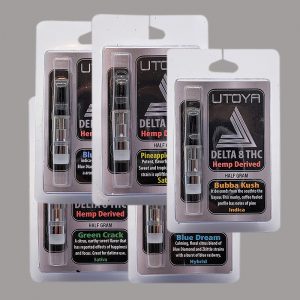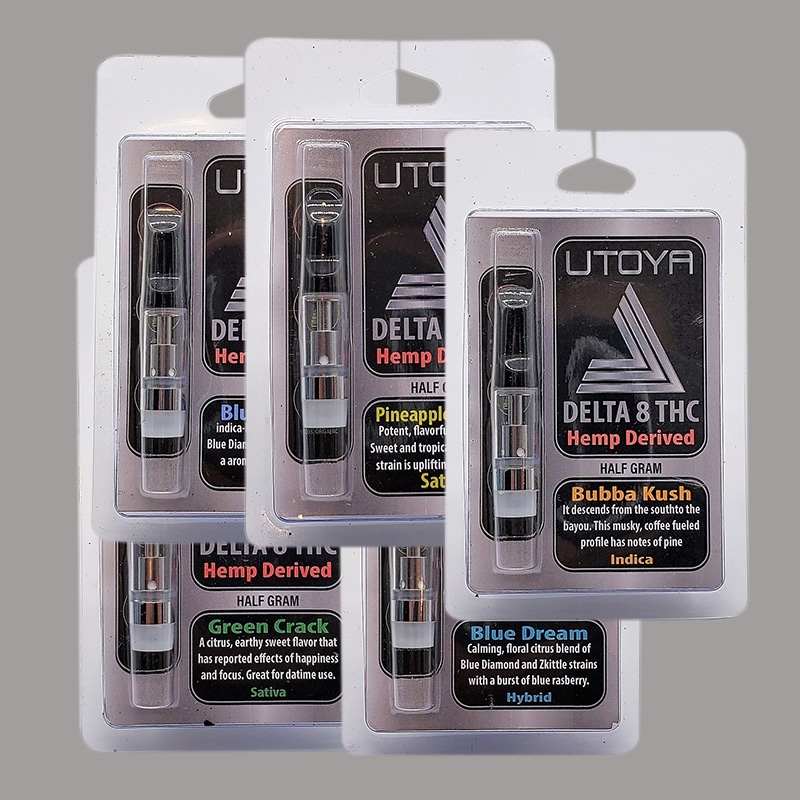 Delta 8 Vape Cartridges 1/2 GRAM
Each delta 8 THC vape cartridge contains approximately:
500 mg total extract
~350-400 mg Delta 8 THC 0% Delta 9 THC
~100-150 mg CBD, CBN, CBC, & organic terpenes
This a very pure, very concentrated vape product. It may be harsh on the throat to those who are not accustomed to concentrated cannabinoid products. Take small puffs. Do not exceed 3 seconds per puff.
Directions
The cartridge is ready to go upon receipt and works simply by attaching to a 510 compatible battery and inhaling with lips around the mouthpiece. Do not unscrew mouthpiece. Keep at room temperature and upright to prevent leaking.
DO NOT DRIVE OR OPERATE ANY MACHINERY WHILE USING THIS PRODUCT
Do not use if pregnant, nursing, or if you have any diagnosed or un-diagnosed health conditions. If your taking medications, consult a physician before using this product.Must be 21 years or older to purchase or use. Federally Legal, legal in most states. Check your state laws to confirm.
Items in our retail store in St. Petersburg, FL may differ from items available online. Also, our inventory is shared and items may vary at time of shipping depending upon stock levels. We will always ship you what is in stock and ready to ship first.
---
We Also Recommend